"Even Muggles feel their presence, though they can't see them."
Dementors, their name itself a portmanteau between "dement" and "tormentors," were created by J.K. Rowling as manifestations of her own experiences with depression.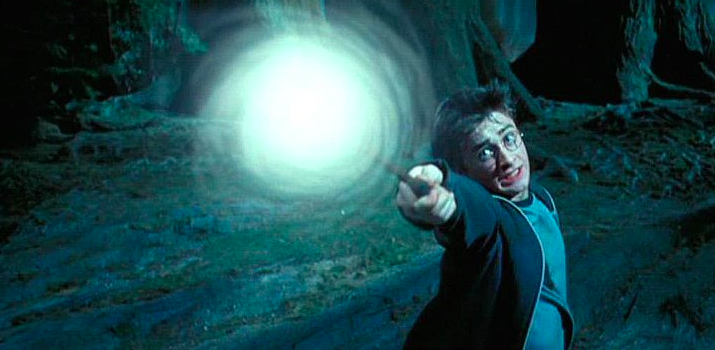 A few years back, in an interview with Edinburgh University student journalist Adeel Amini, Rowling confirmed that she had dealt with major depression in the past, especially in her mid-twenties. "We're talking suicidal thoughts here," she said, "we're not talking 'I'm a little bit miserable.'"
Using her own depression, for which she sought medical help, Rowling was able to create the entities, which she described as "among the foulest creatures that walk this earth. They infest the darkest, filthiest places, they glory in decay and despair, they drain peace, hope, and happiness out of the air around them. Even Muggles feel their presence, though they can't see them."
The Twitter of Marina, an eighteen-year-old girl from Brazil, is a dark place. Or at least it was a dark place, until now.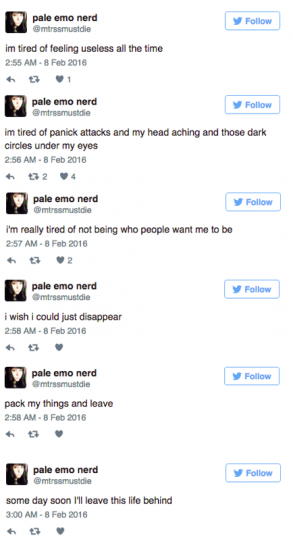 Filled with saddening and lonely messages, Marina, who goes by "pale emo nerd" or @mtressmustdie on Twitter, often tweets out lonesome and upsetting messages like "i wish i could just disappear."
Struggling to fight her own monsters, Marina finally reached out to J.K. Rowling for advice on how to handle the Dementors under her bed.
"@jk_rowling could you please teach me how to scare the dementors that have been living under my bed? i'm tired of being sad all the time"
@jk_rowling could you please teach me how to scare the dementors that have been living under my bed? i'm tired of being sad all the time

— mrs. lovett (@mtrssmustdie) February 8, 2016
Little could Marina have expected the supportive outpouring that would follow her plea to the world-famous author, showing solidarity not just from J.K. herself, but from countless Potterheads across the globe.

<!-comments-button-->